** New** 'Starfighter bellypan', 'fly-screen', 'Silicon water hose Kits(coloured)', 'RAM AIR' Spoiler, 'Cam Stax', 'Pillion Seat Infill'
+ Otec 300 Swingarm, Wheels, Clear Engine Covers, Sissy Bar and Rack, Swing-arm Pivot covers, Wheels, Rearsets, Levers,Slip-on Exhaust, Exhaust Billet End Caps and Windscreens, and Tail Tidy etc...
Last updated 1st March 2013
Remember we have Full Workshop Facilities, to Service, Repair or Renovate. Please enquire.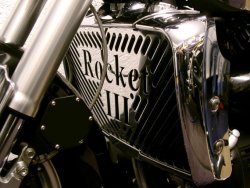 Note : Parts Below are for All other 'Non Vmax' Model Bikes

ROCKET 3 AFTERMARKET PARTS,
XJR PARTS and ACCESSORIES.
PILLION GRAB BAR
RENNTEC PRODUCTS
TUNING: Barnet Clutch Plate Kits, Dynojet Kits, Power Commanders and K&N Air Filters
BRAKING: ISR Levers, Harrison Billet Calipers and Galfer Wave Brake Discs
HANDLING: Hagon Progressive Fork Springs, Galespeed and Lightcon Wheels
BODYWORK: Radiator Covers
MX SILICONE WATER HOSES
ACCESSORIES
HEADLIGHTS
EXHAUSTS: Custom Sidewinders, Cobra, Eagle, Marving, Laser, Remus, Akrapovic and Downpipes.